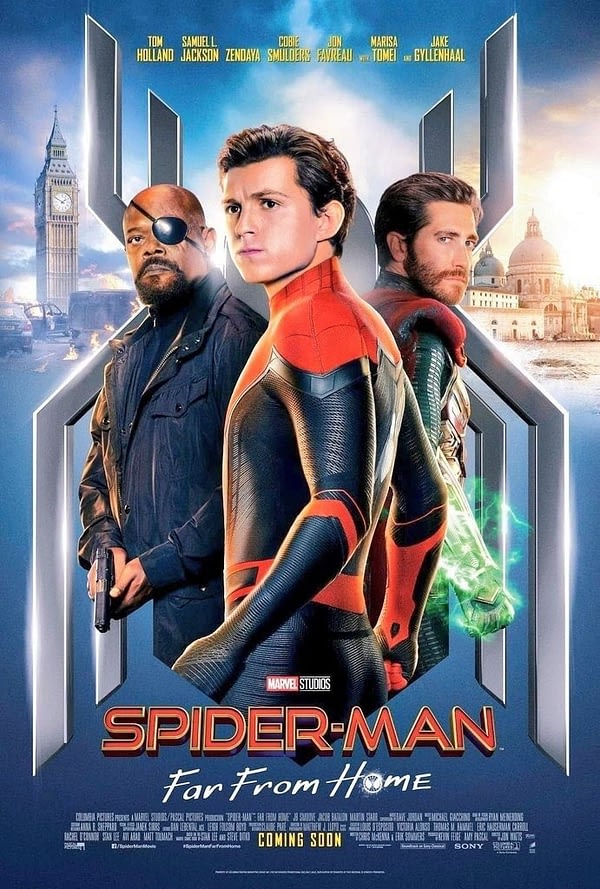 Marvel's Spiderman Far From Home, starring Tom Holland and Jake Gyllenhaal tells the story of how a young Peter Parker and the world learns how to pick up the pieces of life without Ironman aka Tony Stark. Eager to go on a class trip to Europe, Peter plans to start living a normal life and finally decides to tell Mary Jane how he feels in hopes of inviting her to a romantic evening at the Eiffel Tower in Paris. His plans are quickly interrupted when he learns an evil villain has manifested halfway across the world to get Spiderman's attention. Despite Peter's efforts to ignore his calling from the legendary Nick Fury, Peter believes there is no chance to resurrect the once and thriving Avengers. A message sent by Tony put's Peter's life back in perspective, only for him to once again realize that it is still in his destiny to carry on Tony's Heroic Legacy.
Spiderman Far From Home is an adventure thrill ride that brings forth the dawn of a new age of the Marvel comic films, while respectively giving fans closure for the loss of Ironman. It honors his heroism while still giving Spiderman the recognition he deserves to step in to be one of the sincerest heroes ever brought to life. The cast was great, and this movie returned the cinematic form of Spiderman into the beloved character we have loved in the comics for decades. Tom is a great Spiderman; this role was meant for him. Spiderman Far From Home is a great Midsummer Blockbuster film that fans will love. The humor, action, and the introduction of Mysterio was a breath of fresh air to the franchise.
I give this movie 5 stars, a rating that is deserving of a 21st century Marvel film.
L.L.
Check out the Trailer Below: