TWD is back and bigger than ever. The season six episode 9 opened on Valentine's Day and I must say it did not disappoint. Directed by special effects genus Greg Nicotero, "No way out" picked up right where the last episode ended.
Alexandria was overrun with walkers, while Carol and Morgan fought over "the wolf." Rick, Michone, Carl and Jessie, along with her family try to escape the house and head for the armory, while Daryl, Sasha and Abraham face Negan's men and Glenn does his best to save Maggie who is trapped.
Everything panned out in this episode, but it didn't pan out without casualties. While no major characters died in this episode, there were major shockers and explosive moments that kept us on the edge of our seats.
Let's begin with Daryl and his group as they face Negan's men. The main biker does his best to shake up things by threatening the group and taking their weapons. Soon Daryl is taken behind the truck by one of the men to give up more supplies, then suddenly without warning Negan's men explode as their body parts scatter all over. The man of the hour- Daryl Dixon comes out holding a rocket launcher and that was before the official opening of the show. By this time I'm already jumping out of my seat.
Now we are brought back to Rick and the group's attempt to escape the house. Covered in walker guts, they head out, then suddenly Rick changes his plan and decides to try and lead the walkers out. Gabriel takes Judith to safety while the others go. The group slowly moves about within the herd. "The wolf" takes Denise as a hostage out in the commotion while Rosita, Eugine, Carol, Morgan and Tara come together. Enid and Glenn try to make it to Maggie while Daryl and the group make their way back to Alexandria.
Now darkness has fallen as Rick and his group slither their way through the walkers. Sam is suddenly spooked by the walkers as he hears Carl's voice in his head. He can't go on and everyone tries to convince him to go on. He is bitten and so is Jessie. She refuses to let Carl's hand go and Rick is forced to chop it off with the ax. Ron witnesses his mother and brother's deaths and turns the gun in his hand on Carl. Carl is shot in the eye and Ron is killed. Rick scoops up Carl in his arms and heads over to Denise's place. Carol eventually kills "the wolf" and Morgan is left to finish the job. Denise is left with trying to save Carl as Rick truly believes that this is it for Carl. Rick goes on a killing rampage, as he makes an attempt to save what is left of Alexandria. Everyone battles the walkers with the hope of reclaiming the town. Daryl, Sasha and Abraham show up as they lead the walkers into a lake of fire created by Daryl. Carl makes it through the night and the town is reclaimed as the corpses of the dead line the streets.
This episode was filled with excitement and thrilling scenes. The cinematography techniques were great and one of the best scenes was when the camera got a shot of everyone taking a swing at a walker, then ending it with Rick taking the final blow. What a great episode, I must say that this way one of the best TWD episodes ever. I just wish this was a 90 minutes.The special effects were awesome even though I knew Greg used a combination of CG and make up to create Carl's eye. The show doesn't feel like it's in the same season, it feels so fresh and that why this show is the best show on television. Stay tuned because the war with Negan hasn't even started yet. READ THE COMIC BOOKS, THEY ARE AWESOME!
L.L.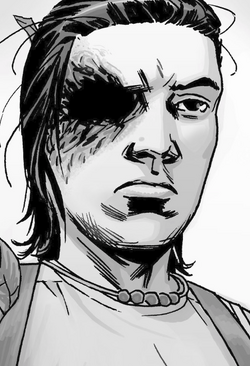 The New Carl Grimes