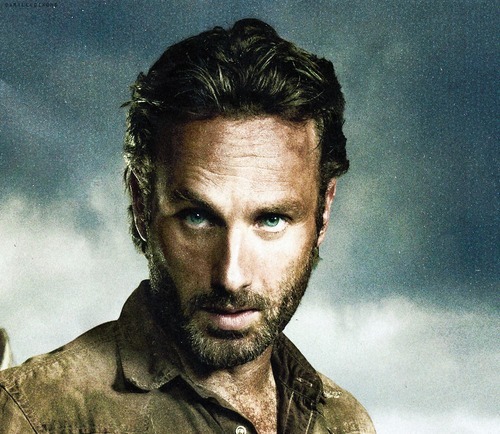 The Journey of Rick Grimes all started with him being an average husband, father and Georgia Sheriff Deputy as he went out into the field to serve and protect the citizens of King County. He and his partner Shane answered a routine call to track down a perp in a stolen car. As Rick and Shane engage in attempting to subdue him a shootout erupts, and Rick is Shot in the process. This injury would change the normal path that Rick pursued while putting him in a coma for at least 6 months. When Rick awakens, he finds himself in a hospital bed hooked up to an IV and machines that are no longer working. As he manages to make sense of what's happening, he realizes that the hospital has been abandoned for some time. He stumbles upon a set of double doors and written on the outside is "Don't Open Dead Inside." Unaware of what that really means, Rick manages to get out of the hospital. His first instinct is to locate his wife and son. He sets out on foot to his neighborhood and then his house only to find out the Lori and Carl are not there. Rick tries to convince himself that what he is experiencing is not real but things get worse as he continues to discover the truth. As Rick tries to gather himself outside of his home, he is knocked in the head by a stranger that would later become a friend along the journey.
Morgan Jones helps Rick and explains to him what is happening. Rick stressed the importance of how he must find his family immediately. Rick then takes Morgan and his son Duane with him to the local sheriff station where he arms himself with ammunition and other supplies. Morgan Duane and Rick eventually go their separate ways but Morgan and Rick attempt to continue to keep the lines of communication open on a walkie-talkie. Rick soon finds himself among the ruins of a once and vibrant city of Atlanta. It is there where he meets Glenn Rhee and a group of local survivors. The relationship bond begins to form as they take Rick back to a so-called safe haven which is a camp in the woods not far from Atlanta. It is there where he is unexpectedly reunited with his wife Lori and his son Carl as well as his best friend and partner Shane.
From there on, Rick's Journey turns him into a Hero and a Leader. The group he encounters from Atlanta follows him to the CDC as he searches for answers to what this thing is and why the world has fallen apart. From the devastation of the events at the CDC, Rick leads the group to a quaint little farm which stems from the events of his son Carl being shot accidentally. The trip to the farm leads to loss but also to a road of remarkable strength. Once the farm fades and is overrun by Walkers. Rick must now face the Zombie Apocalypse with a pregnant Lori while Carl is on the mend from his gunshot. Broken by the separation of the group, Rick finds solace in the wisdom of Hershel as he soon finds himself back reunited with his family and friends. They set off to find a more secure place as they are on the road for the majority of Lori's pregnancy. Rick finds the prison and makes an attempt to create a safe haven for his family and the people around him. After they begin to settle in, and Rick finds the will to manage the issues at the prison, he ends up dealing with the unexpected death of his wife as well as the birth of a little girl that he later realizes is not his biological daughter. He is riddled with grief and regret over his attitude with Lori. He goes into a depressed state but eventually comes out of it. He runs into the Woodbury leader, The Governor and with much determination faces off with him. After the Governor is subdued, the group is out on the road again. Separated again, Rick, Carl, and Michone set off to a place called Terminus. Lead into another trap where killers, psychos, and cannibals dwell. Rick reunites with everyone and meets some new friends along the way, as they work together to take down the people of Terminus. The road is filled with many threats, seen and unseen.  As the group gathers themselves in search of a new place. Rick and the group run into a man named Aaron where he brings the group to Alexandria. This is the place where he begins to build his life up again until he realizes that Deanna, the first leader of Alexandria made a deal with the Saviors. Obligated to continue the deal to keep people safe, Rick finds himself in an uncompromising position until he discovers his spark to fight back again. Death is on the rise among some of Rick's closest friends. He is later faced with another brush with death as Carl is killed and comes to grips that the war against Negan and the saviors are the only way to survive the world. The war is won but as time passes Rick takes on some of Morgan's "all life is precious" sayings as he spares Negan's life. Rick spends his time rebuilding civilization with Michone and the others.
Rick has dealt with unspeakable violence, by witnessing the dead walk the Earth. By losing his wife, and so many people that he has cared for including losing his only son Carl. By being attacked, traded, by maniacs, Wolves, cannibals, psychopaths and other bloodthirsty villains. Rick has survived, persevered and been determined throughout his journey. I can't imagine what life is going to be like without him. I don't think I've ever seen such a strong character as Rick. Now as he has entered another trial and tribulation period in his life, we must step back and think is this really the end?  Now we know the answer is no. After everything that has happened with his new injury, We know that Jadis helped him to survive. Rick Grimes has evolved into a superhero. All superheroes have a weakness, but superheroes don't die. Even Superman came back from the dead, and I must say that Rick is TWD's Superman. He will forever be deemed as television's greatest man turned superhero. Rick will always be loved and always be part of The Walking Dead. Rick Grimes will forever be loved and adored. Thanks Andy!!!
L.L
Check out the Trailer to Rick's Final Episode!